The Book is Ready, Are You?
Here is what Barbara Corcoran of "Shark Tank" Fame and the author of the best selling book "Shark Tales" had to say about this book:
"Dr. Patty Ann rolls up her sleeves to tackle what just may be the last frontier for women who yearn to create wildly successful businesses while keeping their marriage and family life intact! This is a brilliantly written and practical jewel of a book that every entrepreneur and woman business owner should read and take to heart!"
Barbara Corcoran
The Founder of The Corcoran Group
Many of you have been waiting for the release of my new book…
The wait is finally over.
Not Tonight Dear, I've Got a Business to Run!
Enrich Your Marriage While Prospering in Your Business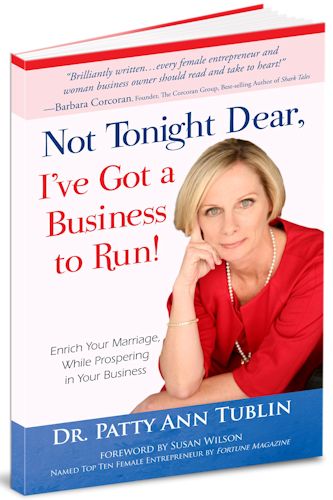 "This ground breaking book is a MUST read for female entrepreneurs and business owners seeking proven strategies and tools for building a successful, money-making business without having to sacrifice happiness in your marriage, family and other important relationships in your life. Relationship and Business Skills all in the same book – BRILLIANT and unprecedented!"
Liz Lange
CEO and Founder
Liz Lange Maternity
* * *
"The reality is: we can't keep our business and personal lives separate … and that's exactly why this book is so special. I've read a ton of books on entrepreneurship – but I've never read one written by a psychologist and relationship expert who's also an entrepreneur. There's incredible value in that unique perspective. I hadn't realized the odds against being a happily married entrepreneur: 1/2 of all marriages end in divorce + 9 out of 10 small businesses fail. Congratulations on picking up this book – read it and you will have the tools to create an awesome life for yourself and your family."
Susan Wilson, CEO
The Judgment Group
Fundher.com
Excerpt from the upcoming book, "Not Tonight Dear, I've Got a Business to Run!"
by Dr. Patty Ann Tublin

You've heard the gruesome statistics. Over half of all marriages will end in divorce. (Believe me, I know – my practice is full of couples on the brink of divorce if we don't do something fast to quiet the raging fire.) Add to that the fact that statistically, the chances of succeeding in a small business are about one in ten, and in all marriages, you can bet that during some time in their marriage, one or both of the spouses is apt to say to one another: "Honey, I've been laid off," or, "Sweetheart, what do you think if I quit my job and invest in an Internet business instead," or, "Dear, I have bad news – that idiot boss of mine fired me!", or "Sugar, let's go into business together, what do you think?!"
Your relationships with your spouse and children are directly impacted when you take on the challenges of entrepreneurship and/or self-employment. Unanticipated financial, time and emotional stressors will influence your relationship with your spouse and children and jeopardize your chance for entrepreneurial success if you fail to create a family plan which anticipates the most likely challenges of self-employment. Married entrepreneurial wives and mothers do not have to sacrifice success in business in order to be happily married, and an effective parent!
If you are considering becoming an entrepreneur by either starting your own business, or purchasing a business with your spouse or significant other, or you are already committed to entrepreneurship as a lifestyle, you need help to beat the odds against divorce and business failure. Business experts stress the importance of creating a thorough strategic business plan before starting a new business. Women entrepreneurs and small business owners understand that we now need to learn how to prepare a family plan as well. Why? Women do not want success in business to come at the expense of happiness in their marriage and family life and relationships.
Women have created a sense of urgency for a family plan as we embrace entrepreneurship at twice the rate of men while populating more seats than men in graduate professional programs such as medicine and law. Women want, and actually demand, a life that creates financial and personal success. Entrepreneurship is the answer to this burning desire and the question: "How do I create a life I love?" A well thought out family plan makes certain our business and relationship goals are in synch, supporting rather than being at odds with each other. The old paradigm of keeping your business and personal life totally separate from each other doesn't work for entrepreneurial and self-employed women (and it never really worked all that great for men either). Today's women seek to reconcile and blend their professional and personal lives, something which is made simultaneously easier and more difficult thanks to modern technology.
Eleanor Roosevelt said: "The future belongs to those who believe in the beauty of their dreams." Women in today's modern world are better educated and more driven for professional success than ever before. They are no longer bound by stereotypes with the new image of women represented quite well by the old commercial words: "we can bring home the bacon and fry it up in a pan and never let you forget you're a man." To do this we need a paradigm shift, one that acknowledges how our business success is influenced by success in our intimate and personal relationships.
"I thoroughly enjoyed this book. It offers practical advice and forces you to ask all the right questions to ensure both a successful marriage and a successful business if you are thinking about starting and running your own business. The advice is down to earth and written with a warm, personal style. It includes great tips and exercises to cover all the important considerations.

I particularly related to the chapter on risk assessment, which is useful both in your personal and family relationships, as well as in professional and work matters. I thought the questions and checklists in this section and the section on ones attitudes about money management, extremely well done.

The lessons to be learned from reading this book cover all aspects of family life and provide wonderful insights on the importance of healthy communications and how to have healthy communications and conflict resolution with your spouse and family. The stories that are used to illuminate major points are very well done. They explore and address real feelings, offer sound advice without preaching, and truly enhance the point without overdoing it.

I highly recommend this book as a "must read" for anyone considering becoming an entrepreneur. It will help you face the tough questions that you and your family must address before starting on the journey. It will help you really assess both the challenges and opportunities that you will face and give you very practical solutions on how to face them together, thus giving you a much better chance of both personal and professional success."
Juanita T. James
President & CEO
Fairfield County Community Foundation
* * *
"Superb! This book is a reality check for small business owners who are struggling to do it all — and who are putting their romantic relationship last. Dr. Patty Ann tells it like it really is. She's done her homework in writing a thoroughly researched, highly practical book that goes so far below the surface you might just wonder if she's been eavesdropping in your bedroom. With advice that's both profound and pragmatic, this book should be required reading within the first year of owning a business!"
Angelique Rewers, ABC, APR
The Corporate Agent
Read how a loving, supportive marriage creates MONEY in your Business:
My Rise to Female Entrepreneurship, Through LOVE:
"If you had of told me back when I was a little girl that I would one day be running my own successful company, I would not have believed you.
I have always had a dream of working for myself and being in control of my time, how much money I made and also my lifestyle but never in a million years thought it would ever happen.
I was far from a straight A student at school, had not come from a family who had business in their blood and certainly had not attained any formal business degrees or skills.
I did however, LOVE my job. I had always wanted to work in the world of beauty ever since I was little … Today I own Blush Brides Australia and am so proud of how far I have come.
I can honestly say I owe 95% of it to my husband believing in me so strongly. Sure, I needed to step out and make it actually happen but without his support and unwavering encouragement, it never would have happened."
Kim McGann
www.blushbrides.com.au
YES!!!! I cannot wait to order Dr. Patty Ann's soon to be best-seller:
Not Tonight Dear, I've Got a Business to Run!

Enrich Your Marriage While Prospering in Your Business
Click below to Pre-Order now – just $22.50 plus shipping. The book will be shipped as soon as it's available.